Yanmar engine part solenoid 119233-77932
Stop soleniod 119233-77932 is fitting on Yanmar 4TNV94L,4TNV98T, diesel engine , Flameout solenoid coil with a like generator inside, is generated when the electric magnetic pull off switch back to oil, when the power is no magnetic force, the spring push the stall to the off position, not oil. After a long period of use, the piston is easily blocked by dust, dirt and dirt.It needs to be unloaded and cleaned. It should not be lubricated because the solenoid valve is close to the engine.
When energized, the electromagnetic coil generates electromagnetic force to lift the closing part from the seat and open the valve.When the power is off, the electromagnetic force disappears, the spring presses the closing piece against the seat, and the valve closes.Mainly switch role, is to use the electricity flows through the coil will generate electromagnetic suction valve core (or overcome spring since the gravity). Normally open and normally closed two class. Commonly used to cut off the oil, water, gas and other material circulation. Cooperate with pressure, temperature sensors and other electrical equipment to achieve automatic control.
Solenoid 119233-77932 Specifications
Structure : Shutoff
Pressure : Medium Pressure
Material : Alloy
Place of Origin : Japan
Weight : 1kg
Model : Soleniod Valve
Another Engine Stop Soleniod
Deutz engine stop soleniod :
Model No.
Technical Specification

Meas.

(mm)

Weight

(KG)

Approval

/Cerficate

04199900
1. rated work voltage :DC12V
2 . Usual temperature actuation voltage:≤10V ;Release voltage≤5V; actuation current:≤3.
3. work temperature:-40℃-180℃

110x120x240
1.9
TS16949
04199901
1. rated work voltage :DC24V


2 . Usual temperature actuation voltage:≤18V; Release voltage≤8V; actuation current:≤1.8A.

3. work temperature:-40℃-180℃
110x120x240
1.9
TS16949
04199902
1. rated work voltage :DC12V
2 . Usual temperature actuation voltage:≤10V ;Release voltage≤5V; actuation current:≤3.
3. work temperature:-40℃-180℃

110x120x240
1.9
TS16949
04199903
1. rated work voltage :DC24V
2 . Usual temperature actuation voltage:≤18V; Release voltage≤8V; actuation current:≤1.8A.
3. work temperature:-40℃-180℃

110x120x240
1.9
TS16949
04199904
1. rated work voltage :DC12V
2 . Usual temperature actuation voltage:≤10V ;Release voltage≤5V; actuation current:≤3.
3. work temperature:-40℃-180℃

110x120x240
1.9
TS16949
04199904
1. rated work voltage :DC24V
2 . Usual temperature actuation voltage:≤18V; Release voltage≤8V; actuation current:≤1.8A.
3. work temperature:-40℃-180℃

110x120x240
1.9
TS16949
0419 9905
1. rated work voltage :DC12V


2 . Usual temperature actuation voltage:≤10V ;Release voltage≤5V; actuation current:≤3.

3. work temperature:-40℃-180℃

110x120x240
1.9
TS16949
04199905
1. rated work voltage :DC24V
2 . Usual temperature actuation voltage:≤18V; Release voltage≤8V; actuation current:≤1.8A.
3. work temperature:-40℃-180℃

110x120x240
1.9
TS16949
04272756
1. rated work voltage :DC12V
2 . Usual temperature actuation voltage:≤10V ;Release voltage≤5V; actuation current:≤3.8A.
3. work temperature:-40℃-180℃

100x100x120

0.9
TS16949
04272957
1. rated work voltage :DC24V
2 . Usual temperature actuation voltage:≤18V; Release voltage≤8V; actuation current:≤1.8A.
3. work temperature:-40℃-180℃
100x100x120
0.9
TS16949
04287583
1. rated work voltage :DC12V
2 . Usual temperature actuation voltage:≤10V ;Release voltage≤5V; actuation current:≤3.8A.
3. work temperature:-40℃-180℃

100x100x120
0.9
TS16949
04287584
1. rated work voltage :DC24V
2 . Usual temperature actuation voltage:≤18V; Release voltage≤8V; actuation current:≤1.8A.
3. work temperature:-40℃-180℃
100x100x120
0.9
TS16949
04272733
1. rated work voltage :DC12V
2 . Usual temperature actuation voltage:≤10V ;Release voltage≤5V; actuation current:≤3.8A .
3. work temperature:-40℃-180℃

100x100x120
0.9
TS16949
04272734
1. rated work voltage :DC24V
2 . Usual temperature actuation voltage:≤18V; Release voltage≤8V; actuation current:≤1.8A.
3. work temperature:-40℃-180℃
100x100x120
0.9
TS16949
04287116
1. rated work voltage :DC12V
2 . Usual temperature actuation voltage:≤10V ;Release voltage≤5V; actuation current:≤3.8A .
3. work temperature:-40℃-180℃
100x100x120
0.9
TS16949
04287117
1. rated work voltage :DC24V


2 . Usual temperature actuation voltage:≤18V; Release voltage≤8V; actuation current:≤1.8A.

3. work temperature:-40℃-180℃
100x100x120
0.9
TS16949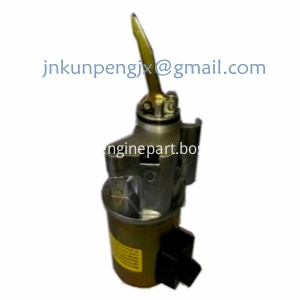 Shangchai stop soleniod valve : 59AL201, 59AL204, 59AL206, 59AL207, 59AL214, 59AL601, 59AL611
Cummins engine stop Soleniod valve : 3935431, 3939702, 5295567, 3937703, 3928160, 3936026, 3357411, 3864274, 3935430,3935432, 3991167

Engine Stop Soleniod Parts List :
Brand
Part No.
voltage
Vdc
CUMMINS
4063712
24
3991624
12
3991625
24
3991167
12
3991168
24
3932529
12
3932530
24
3939018
12
3939019
24
3939700
12
3939701
24
3990722
12
3990723
24
3990770
12
3990771
24
3964621
12
3964622
24
3958160
12
3958176
24
3974947
24
3932017
12
3936026
12
3935456
12
3935457
24
3935458
12
3935459
24
3935649
12
3935650
24
3935431
12
3935432
24
3939702
12
3939703
24
3935429
12
3935430
24
3939700
12
3939701
24
3934174
12
3934177
24
3932545
12
3932546
24
3930233
12
3930234
24
3923680
12
3930235
12
3930236
24
3926411
12
3926412
24
3928160
12
3928161
24
3800723
12
3931570
12
3931570
12
3800723
12
134972
12
134972
24
3054609
12
3054609
24




WOODWARD
SA-5030-24
24
SA-4959-12
12
SA-4959-24
24
SA-4941-12
12
SA-4941-24
24
SA-4756-12
12
SA-4756-24
24
SA-4891-12
12
SA-4891-24
24
SA-4889-12
12
SA-4889-24
24
SA-4932-12
12
SA-4932-24
24
SA-4931-12
12
SA-4931-24
24
SA-5006-12
12
SA-5006-24
24
SA-4978-12
12
SA-4978-24
24
SA-3742-24
24
SA-3742-12
12
SA-3799-12
12
SA-3799-24
24
SA-4735-24
24
SA-4735-12
12
SA-4767-12
12
SA-5019
12
SA-5157
12
SA-4668-S
12
SA-4762-12
12
SA-4762-24
24
SA-4763-12
12
SA-4763-24
24
SA-4764-12
12
SA-4764-24
24
SA-4756-12
12
SA-4756-24
24
SA-4892-12
12
SA-4892-24
24
SA-4755-12
12
SA-4755-24
24
SA-4891-12
12
SA-4891-24
24
SA-4697-12
12
SA-4697-24
24
SA-4639-12
12
SA-4639-24
24
SA-4335-12
12
SA-4335-24
24
SA-4348-12
12
SA-4348-24
24
SA-4257-12
12
SA-4257-24
24
SA-4293-12
12
SA-4293-24
24
SA-4981-12
12
SA-4981-24
24
SA-4026-12
12
SA-4026-24
24
SA-4014-12
12
SA-4014-24
24
SA-3999-12
12
SA-3999-24
24
SA-3742-12
12
SA-3742-24
24
SA-3765-12
12
SA-3765-24
24
SA-3799-12
12
SA-3799-24
24
SA-3800-12
12
SA-3800-24
24
SA-4754-24
24
SA-4888-12
12
SA-4888-24
24
SA-5171-12
12
SA-5171-24
24
SA-5151-12
12
SA-5151-24
24
1500-2140
12
1500-2140
24
SA-3405T
12
SA-3405T
24
SA-4569-T
12
SA-4564
12
SA-4817
12
SA-4922
12
SA-4561-T
12
SA-4561-T
24
SA-4562T
12
SA-5213
12
SA-4850
12
SA-4921
12
SA-5019
12
SA-5019
24
SA-5157
12
SA-5157
24
SA-4259-12
12
SA-4259-24
24
SA-3499
12
S