LIBERTY 02-12;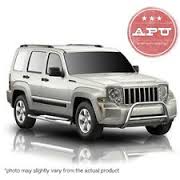 Strut Mounts: THE UNSUNG HERO.
KEEPS YOUR RIDE QUIET & VIBRATION FREE.
As the name (Strut Mount) implies, it`s a component that attaches the suspension strut to the vehicle. In addition, it insulates the tire noise & vibrations from the vehicle. Many (front) strut mounts also contain a bearing or bearing plate that serves as the steering pivot.